Sipar publishing: a unique know-how in Cambodia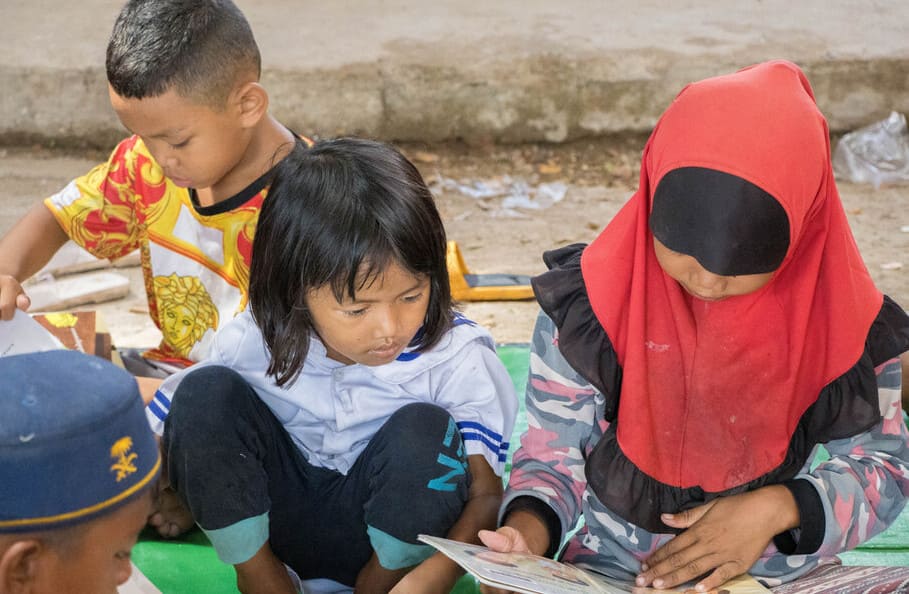 Jacqueline Kerguéno, former press editor and member of the Board of Directors at Sipar, explains why the Sipar publishing house is special and unique in Cambodia, thanks to a know-how that has greatly developed since 2000. She testifies.
"When you leaf through the Sipar Edition catalogue, with regard to local editorial production, two particularities emerge by their originality: books for early childhood, (less than 6) and documentaries for young people (6-18 years old). Cambodian children's book producers mainly publish traditional tales, illustrated albums, inspired by local folklore or animated television films," explained Jacqueline Kerguéno.
Educational picture books: a specialty of Sipar Publishing
This production began in 2010, at the same time as the development of kindergartens in Cambodia's main cities.
The Sipar editorial team had the chance to benefit from training led by an artistic director, Anna Tran, from Bayard France (who publishes Pomme d'Api).
Some members of the team quickly realized that simple images, in relation to the familiar world of a child, can help him develop his intelligence and communication skills. Exchanges with the adult who reads or comments on the magier help the child to recognize the first symbols, to become more observant of what surrounds him. The progressive recognition of images increasingly structured and developed according to age, facilitates the construction of language.
For 2-4 years old, little by little, magiers have been created with various themes, linked to the living environment of the little ones (house, familiar objects, food, family life). Then, for the older ones, 4-6 years old, an observation of the Cambodian environment (city, countryside, transport, school). And also festivals, local events (Khmer New Year, Water Festival, zodiac signs...).
The picture books are accompanied by words in Khmer and English. They can serve as a learning medium for the first writings (5-6 years), reading being facilitated by image recognition.
In 2018, team members visited Montessori schools in Phnom Penh, where all printed learning tools were exclusively in English... for English-speaking students, but also Cambodians. We wanted to allow all children to benefit from this method, recognized worldwide, by making them accessible in their mother tongue.
The next step was to publish a box set of five Montessori albums in Khmer, for an approach to reading that was both educational and fun. Vanthary Oum, editor at Sipar, with a pedagogical training and a good experience of children made in 2019 these albums to discover the consonants and the numbers up to 10. A second box, published in 2022, continues these learnings with vowels and geometric bases.
Given the success of these albums, the first Montessori material in Khmer in the country, Sipar is preparing for 2023 another series, stages of entry into reading level 1 (CP), first words that make sense and other mathematical notions.
The documentaries for young people: knowing how to adapt to each age
Creating a documentary requires a technique of searching for targeted information based on the theme and age of the reader. It is necessary to know how to presentthis information to the reader to help him understand new concepts for him, by offering images, texts, a model, which will be as many doors of entry into the chosen subject.
It is a unique know-how at Sipar, which the team has acquired over the years, thanks to the support of Françoise Récamier, (former editor-in-chief of Image Doc and Okapi in Bayard France and member of the Board) then by participating in some training sessions led by publishers from France or elsewhere. To date, a Cambodian publisher does not know how to create youth documentaries taking these requirements into account.
Sipar has a rich catalogue of documentaries for readers from 8 to 16 years old, and for adults.
Some titles are created locally to discover the environment (Angkor explained to young people, The diversity of Cambodia, the History of the Khmer...). Other titles, of a universal nature, are translated, and sometimes adapted, after purchase of rights in various countries (Korea, Japan, France, USA ...) Titles in comics, on the History of Science, the History of the World, the Human Body, are very popular with middle and high school students and this format is expected to develop in the years to come.
The collection Discover... helps 8-12 year old to decorate universes such as the birds of the Tonle Sap, the animals of the oceans, the savannah, the ice floes... etc. Many images, photos, illustrations, targeted texts, are laid out to help understanding and discovery.
We are proud of our Edition team, which now includes seven people, five editors and two layout designers, who in 20 years have developed the Sipar publishing house. Every year new titles are published and old ones reprinted, much to the delight of Cambodian readers. Since 2000, we have published 244 titles in 16 collections and 3.1 million copies have been published! In 2021 and despite the teleworking implemented within our teams, the publishing department was able to produce 24 new books. Congratulations to them.