The "Libraries in Prison" program takes the digital turn
For the past 10 years, inmates in Cambodia's 28 prisons have been able to escape from their daily prison lives for a reading. In the next three years, they will also have access to tablets and computers to familiarize themselves with digital technology and help them rebuild.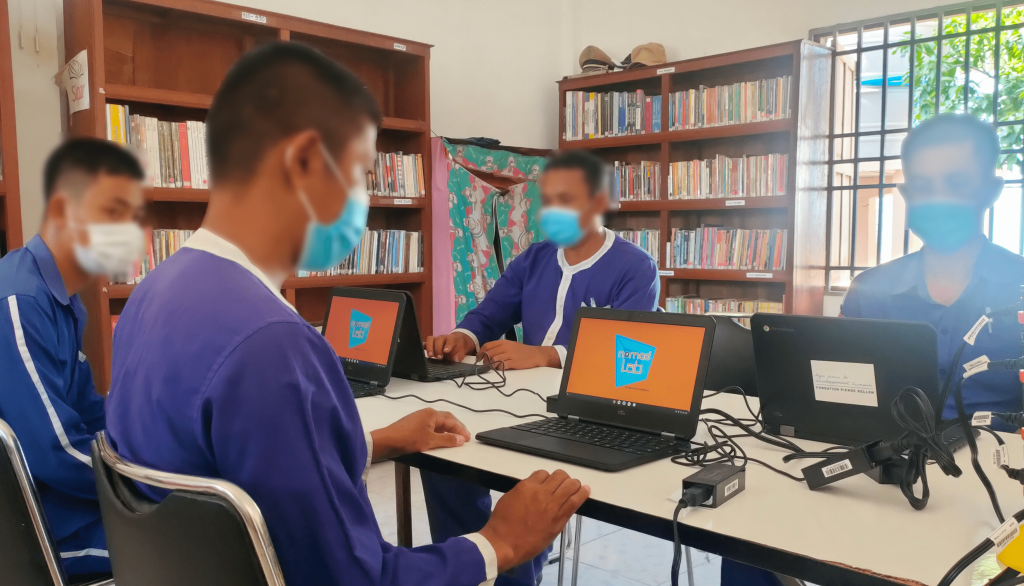 Contributing to the education and training of prisoners and enabling them to dream of a better future is the objective of our "Libraries in Prisons" program that began in 2012. Sipar and its partners are convinced ofthe positive impact of this program and wanted to go further by equipping libraries with a digital laboratory of five to ten computers whose content can be consulted by all, offline. These interactive digital tools offer new opportunities for prisoners to continue their secondary education, acquire technical skills (agriculture, cooking, mechanics, etc.), deepen their command of a foreign language (English, Chinese, Thai, etc.), strengthen their practical life skills (financial management, preparation for employment, management of a micro- company...) and develop their knowledge of the basics of computer science. This programme is a major innovation in the Cambodian context. The rapid advances in the digital field in the country are such that its mastery is becoming more and more necessary, especially for young people who are breaking socialization.
During these three years, we will also continue and strengthen book counselling and lending services and introduce cultural activities and literary creations to promote the personal development of prisoners. The literacy classes, which have benefited nearly 1,000 people to date, will continue with a new curriculum, allowing proficiency in reading, writing and numeracy. Inmates who wish to continue beyond will have access to secondary school programs (up to the final year) downloaded to the computers of NomadLab.
10 years of impact
Over the years, we have seen an increase in inmate attendance at our libraries. To date, more than 25% of the 38,000 prisoners come to read and more than 124,000 books have been borrowed in the last three years of the program. The prison authorities are very involved in the project and guards – and a few inmates – are trained in the management of the library, a function they particularly appreciate. This last phase of the project also aims at a total and definitive transfer of library management to the General Directorate of Prisons (DGP). As in all our programs, our goal is sustainability.
A better prepared rehabilitation
In recent years, the Cambodian government has been waging an intense campaign to combat drug trafficking, resulting in an increasing number of incarcerations. Prisons are overcrowded and conditions of detention are increasingly complicated. In 2022, about 70% of inmates are incarcerated for this reason, a majority of whom are under the age of 25.
Getting out of solitary confinement, participating in better rehabilitation and combating violence in prisons by offering occupancy to inmates in Cambodia's 28 prisons is the mission of the "Libraries in Prisons" programme.